Every day SOI aims to inspire a passion for the ocean by sharing enthralling footage and brings the latest in ocean research to people all over the globe. Our communication and outreach encourages engagement across all ages through a multitude of programs including student and artist berths of opportunity, live at-sea broadcasts and connections, image and data sharing, social media campaigns, and science communications training.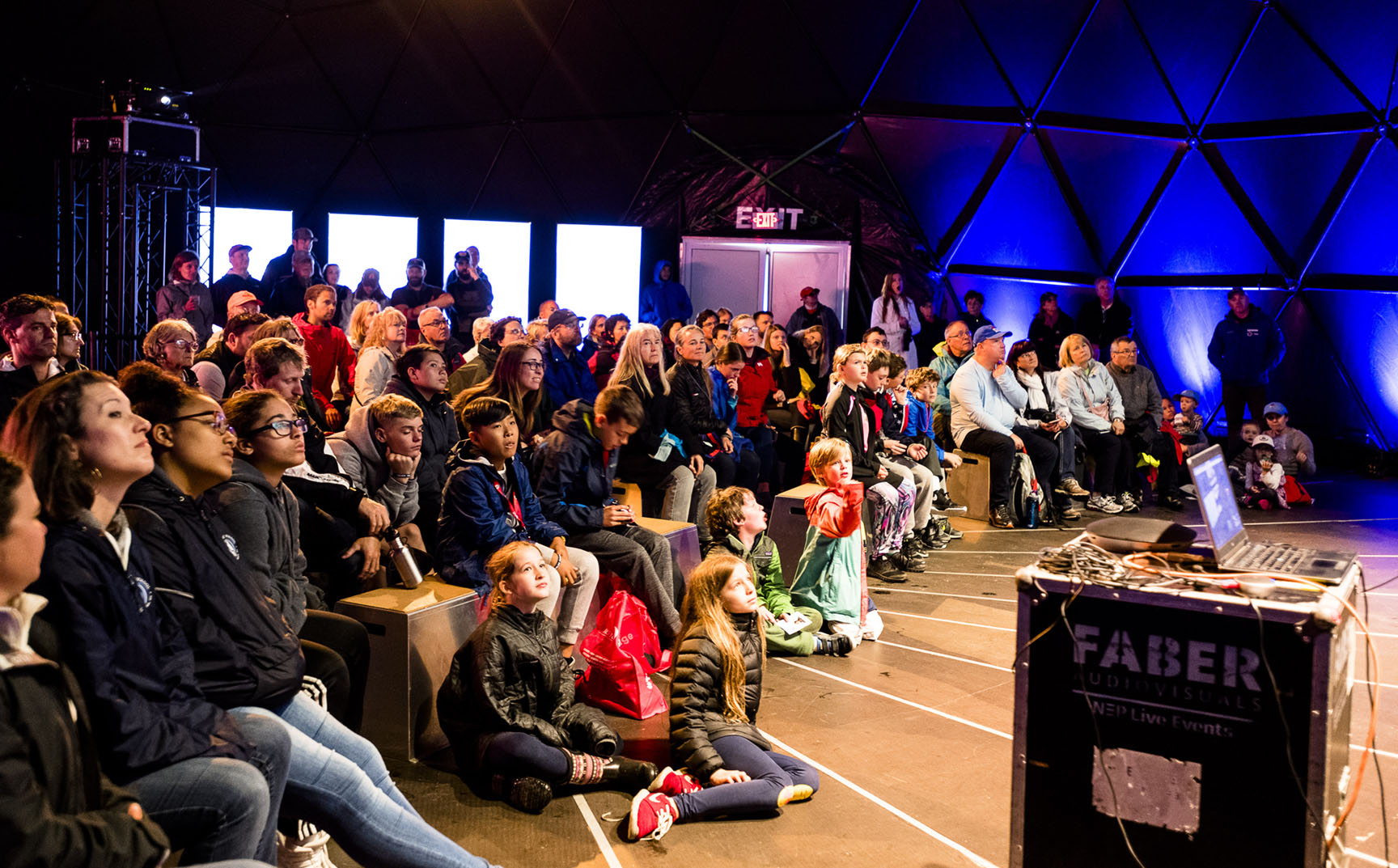 NEW CONNECTIONS BRING FALKOR SHORESIDE TO LARGE AND DIVERSE AUDIENCES
Falkor's first expeditions in Mexican and Costa Rican waters prompted bilingual outreach with videos, blogs, and live narration of ROV dives conducted in both English and Spanish. Breathtaking methane seeps, hydrothermal vents, and rare organisms attracted viewers to watch both on SOI's YouTube channel and Facebook Live, leading to a worldwide audience watching more than 2.9 million minutes of live streaming from ROV SuBastian's dives. Several dives this year were re-shared by iFLS, attracting more than 500,000 viewers.
SOI continues to broaden its connection to aquariums, museums, and learning centers across the country, and around the world, through our Ship-to-Shore program. These 30-minute connections allow viewers to see the science happening on board in real time and engage with the scientists live for a question and answer session.
Throughout the year, SOI participated in several new connections reaching larger, diverse audiences. In May, we teamed up with 11th Hour Racing to broadcast live during the Volvo Ocean Race stopover in Newport, Rhode Island.
SOI also held its third tri-ship hangout on World Ocean Day, connecting three research vessels including Falkor, and broadcasting live online to more than 4,000 people. Falkor connected live with the Prime Minister of Portugal during his visit to MIT, sharing the success of the multiple robotics expedition. Another highlight was in May when the ship was part of a live presentation with UNESCO and Dr. Sylvia Earle discussing the expedition to the White Shark Café. Finally, SOI entered into a new partnership with the Smithsonian National Museum of Natural History, linking the researchers on the ship to the audience at the prestigious museum's Sant Ocean Hall once per expedition. The Sant Ocean Hall is the National Museum of Natural History's largest exhibit, and averages six million visitors each year bringing a new interested audience to engage in these connections.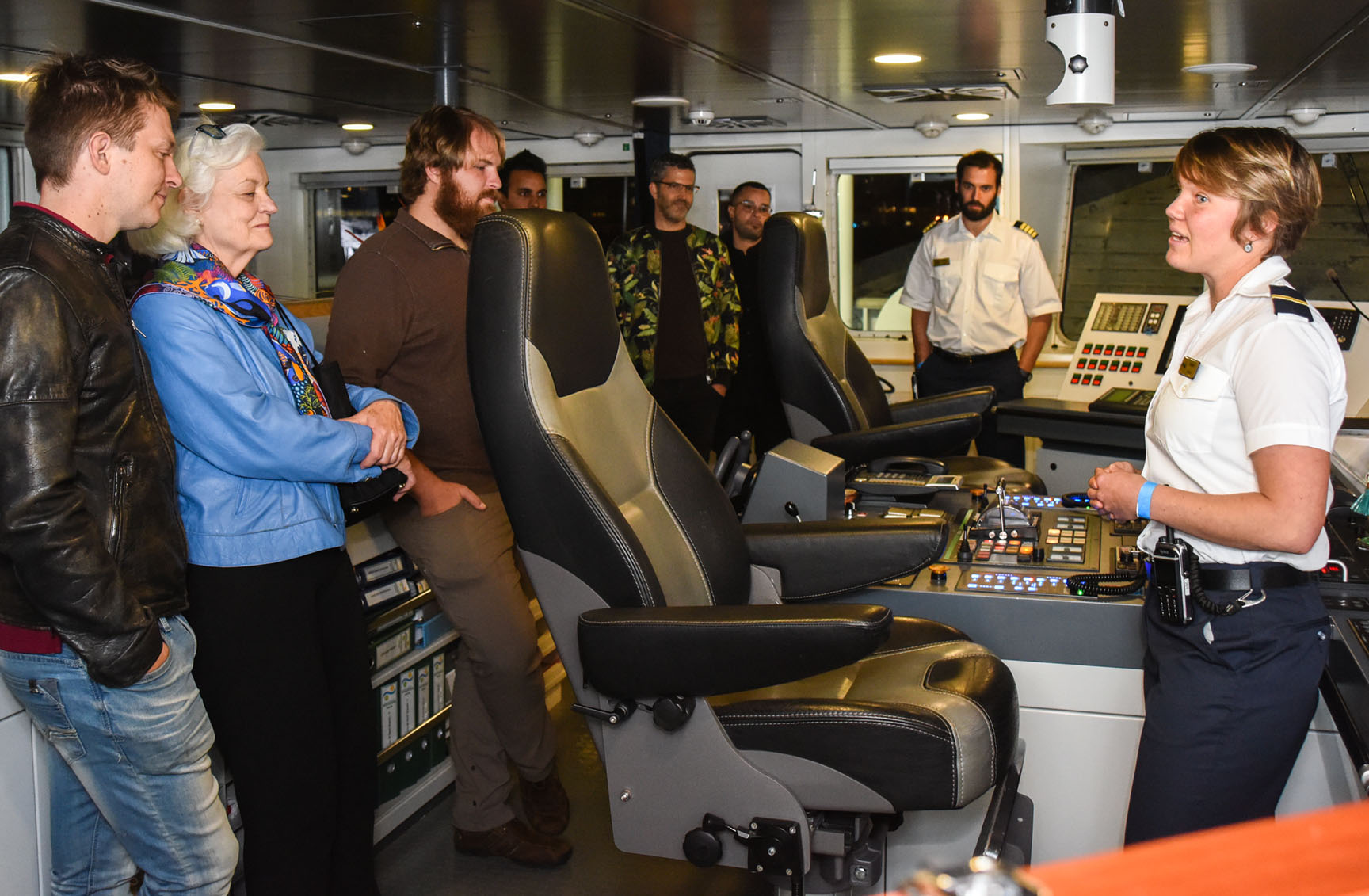 In 2018, Falkor welcomed 1,000 public visitors to tour the ship in California, Oregon, and Hawaii. Returning to San Francisco for the first time in five years, Falkor celebrated with two days of ship tours. An evening event was held at the interactive museum, the Exploratorium, which included demonstration tables, an Artist-at-Sea exhibit, presentations from previous principal scientists, and a talk by co-founder Wendy Schmidt.
Public engagement may start on the ship, but a major focus has been to bring science and process into the communities in which we work, as exemplified by the 2,700 people reached this year through in-person public presentations.
TRAINING THE NEXT GENERATION
SOI encourages student learning with hands on opportunities to provide experience and career guidance. Forty-five university students sailed on Falkor in 2018, including five Student Opportunities program participants. SOI also welcomed a new Science Communications Intern, Katherine Herries. Katherine is the third intern in the program emphasizing direct training and mentoring. Feedback on the internship has indicated greatly increased comfort and interest in science communication and writing. Katherine has been busy authoring three published articles, participating in community outreach, all while learning how to analyze social media metrics. "This internship has let me to see a different side of science," said Katherine. "The program has strengthened my communications skills allowing me to connect with audiences around the globe. I will leave this experience feeling well prepared to embark on a science communications career."